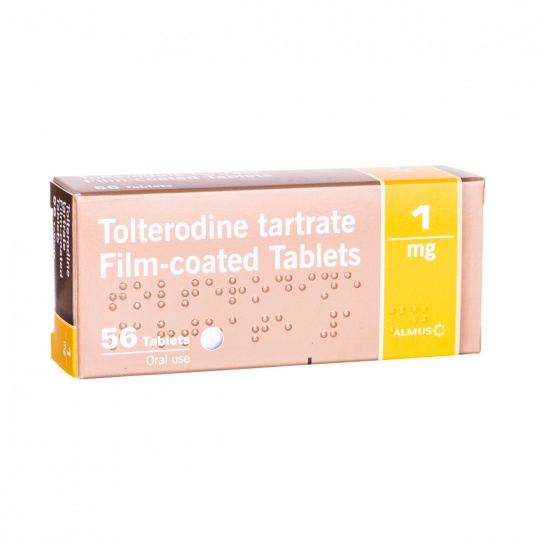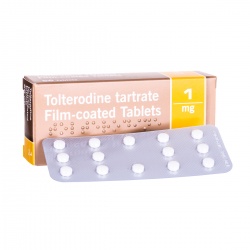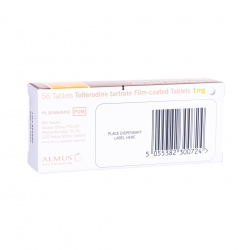 Bilder nur zur Veranschaulichung
Verbessert die Symptome einer Inkontinenz
Gewährt eine bessere Kontrolle über die Blase
Beugt Auslaufen vor
Unverfälschte Medikamente
Alle Medikamente werden aus Europa bezogen
Tolterodine is a medication for the treatment of an overactive bladder with symptoms of urinary frequency, urgency, and incontinence. Tolterodine belongs to a class of medication known as antimuscarinics.
Bestellen Sie in den nächsten
8 Std.
25 min.
2 sek.
um Ihre Bestellung am 6. Juni zu erhalten
Gesamtheitlicher Service

Keine versteckten Kosten

Expressversand (24h Lieferung)

Diskrete Verpackung

Rezept im Preis inbegriffen

Mittels unserer Online-Beratung
Schnell & einfach

Kein Termin notwendig, keine lange Wartezeiten

Diskrete Verpackung

Schlichte Verpackung ohne ärztliche Stempel oder Markierungen

Vertraulicher Dienst

Ihre medizinischen Daten bleiben bei uns. Wir teilen Sie nicht mit Dritten

Originale Medikamente

Unverfälschte Medikamente aus Europa
What is Tolterodine?
Tolterodine is a medication for the treatment of an overactive bladder with symptoms of urinary frequency, urgency, and incontinence. Tolterodine belongs to a class of medication known as antimuscarinics.
How does Tolterodine work?
Tolterodine is an antimuscarinic. It works by relaxing the muscles of the bladder to prevent bladder contraction.
What are the benefits of using Tolterodine?
The main benefit of using Tolterodine is the relief it provides to the symptoms associated with an overactive bladder. This medication effectively relaxes the muscles of the bladder to prevent bladder contraction.
How do I use Tolterodine?
Tolterodine comes as a tablet and an extended-release capsule. This medication is to be taken by mouth. The tablet is usually taken twice daily while the extended-release capsule is usually taken once daily. Take this medicine with liquids.
When taking this medicine, it is important that you follow the instructions of your doctor or the directions in the prescription label. Ask your doctor or pharmacist if you do not understand anything about its proper use.
Take this medication as directed by your doctor, without increasing or decreasing the dose or taking it more often than what is prescribed.
The extended-release capsule should be swallowed whole, without chewing, splitting, or crushing it.
You can get the most benefit from this medicine if you are going to take it regularly. Your dosage of this medication is based on your medical condition, your response to treatment, and other medications you may be taking.
Inform your doctor if your condition persists or worsens after you start taking this medication.
Tolterodine dosage
Take Tolterodine as directed by your doctor. Your doctor may occasionally change your dose in order for you to get the most benefit out of this drug.
The usual dose of this medication is twice daily if you are taking the tablet or once daily when you are taking the extended-release capsule.
Side effects & precautions
Your doctor prescribed Tolterodine because he deemed the benefits to be greater than the risks of side effects, although not everyone will experience the side effects.
Dry eyes, dry mouth, stomach upset, constipation, drowsiness, dizziness, blurred vision, or tiredness may occur when you start taking Tolterodine. If any of the side effects persist or worsen, you have to inform your doctor immediately.
You can relieve dry mouth by sucking on sugarless candy or ice chips, by chewing sugarless gum, drinking water, or using a saliva substitute.
Eating a diet rich in fibre, exercising, and drinking of plenty of water can prevent constipation. If you become constipated while taking this medicine, ask your pharmacist for help in selecting a laxative.
Tell your doctor right away if you experience any serious side effects, such as severe stomach or abdominal pain, vision changes, signs of kidney infection such as painful urination or lower back pain, and trouble urinating.
Immediately call for medical help if you experience the following serious side effects: severe dizziness, fast/slow/irregular heartbeat, or fainting.
Tolterodine rarely causes an allergic reaction. However, you have to immediately call emergency medical service if you experience the symptoms of an allergic reaction such as severe dizziness, rash, trouble breathing, and itching or swelling of the face/tongue/throat.
Report to your doctor if you experience any other side effects that are associated with your use of this medication.
Tolterodine may trigger an allergic reaction in some individuals who will use it. Before you start taking the medication, inform your doctor if you are allergic to it or to its inactive ingredients, or if you have other allergies.
It is important that you share with your doctor your medical history before you start taking Tolterodine, such as problems emptying your bladder, glaucoma, severe blockage of the stomach or intestines, slow movement of the stomach or intestines, kidney disease, constipation, liver disease, a muscle disease called myasthenia gravis.
This medication may cause a condition that could affect your heart rhythm, which can cause serious fast or irregular heartbeat and other symptoms that need medical attention immediately.
The elderly have a higher risk of the side effects of Tolterodine, including QT prolongation, confusion, drowsiness, constipation, or trouble urinating. Confusion and drowsiness can increase your risk of falling.
Tolterodine may make you drowsy, dizzy, or blur your vision. Consuming alcoholic drinks or using marijuana may exacerbate the condition. Do not perform any task that requires alertness until you are sure you can perform it safely. Limit your consumption of alcoholic beverages and discuss with your doctor your use of marijuana.
Avoid activities that may cause you to overheat, such as doing hard work or exercising in hot weather because Tolterodine may make you sweat less. You need to immediately cool down and rest when you notice that you are overheating.
This medication is not recommended for use during pregnancy. Use Tolterodine only during pregnancy when it is clearly necessary. Discuss with your doctor the benefits and risks of taking this medication during pregnancy.
It is not established if Tolterodine passes into breast milk. Discuss with your doctor the benefits and risks before breastfeeding.
Drug interactions may alter how your medicines work or increase your risk for side effects. Share with your doctor a list of all the medications you are currently taking to allow him to check for any unsafe combination with Tolterodine.
How do I buy Tolterodine online?
You can safely buy Tolterodine online at UK Meds. You will need first to have an online consultation with a medical doctor before your order will be supplied. The online consultation will ensure that Tolterodine is the right medication for your medical condition.
Wir sind für Sie da
Unser Kundendienst ist Montag bis Freitag 9 - 17 Uhr für Sie da. Falls Sie dringende medizinische Hilfe brauchen, rufen Sie bitte den ärztlichen Bereitschaftsdienst an, Tel. 116 117